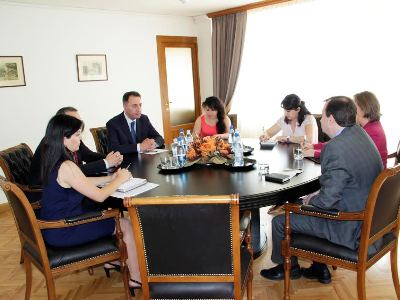 YEREVAN. – The Minister of Economy of Armenia, Karen Chshmarityan, on Friday met with US Ambassador Richard Mills.
The minister thanked the diplomat for the United States Agency for International Development (USAID) assistance in Armenia's reforms in tourism and aviation sectors. He also stressed the World Bank's assistance in the country's inspectorate reforms, and presented the ideas for the formation of an innovation system in the country.
The ambassador, for his part, highlighted that the mentioned domains are a priority for the US government, too. Mills also pointed to the protection of intellectual property, and added that this likewise is of great importance for US businessmen.
Minister Chshmarityan, in turn, underscored the need to have an agreement between the Governments of Armenia and the US, and with respect to excluding double taxation of income and property, and preventing tax evasion.
Separately, Ambassador Mills congratulated for Armenia's readiness to join the Extractive Industries Transparency Initiative (EITI). He also expressed the hope that EITI will become a mechanism for the transparent and sustainable development of the country's economy.
In addition, the interlocutors discussed matters concerning the Armenia Economic Forum 2015, which capital city Yerevan will host in October.